Startup Ideation
Starting a business is often a life-changing event. For some, it is an entry into the real world, while for others it is "the next logical step", having worked and gained a level of expertise in specific business functions or domains. Irrespective of your background, the experience for an entrepreneur while launching a business is nothing short of shaping one's own destiny. Therefore, proper business planning and financial forecasting are essential activities. At BPlanExperts we work closely with clients, through a structured mechanism and help transform your idea into a realistic business venture.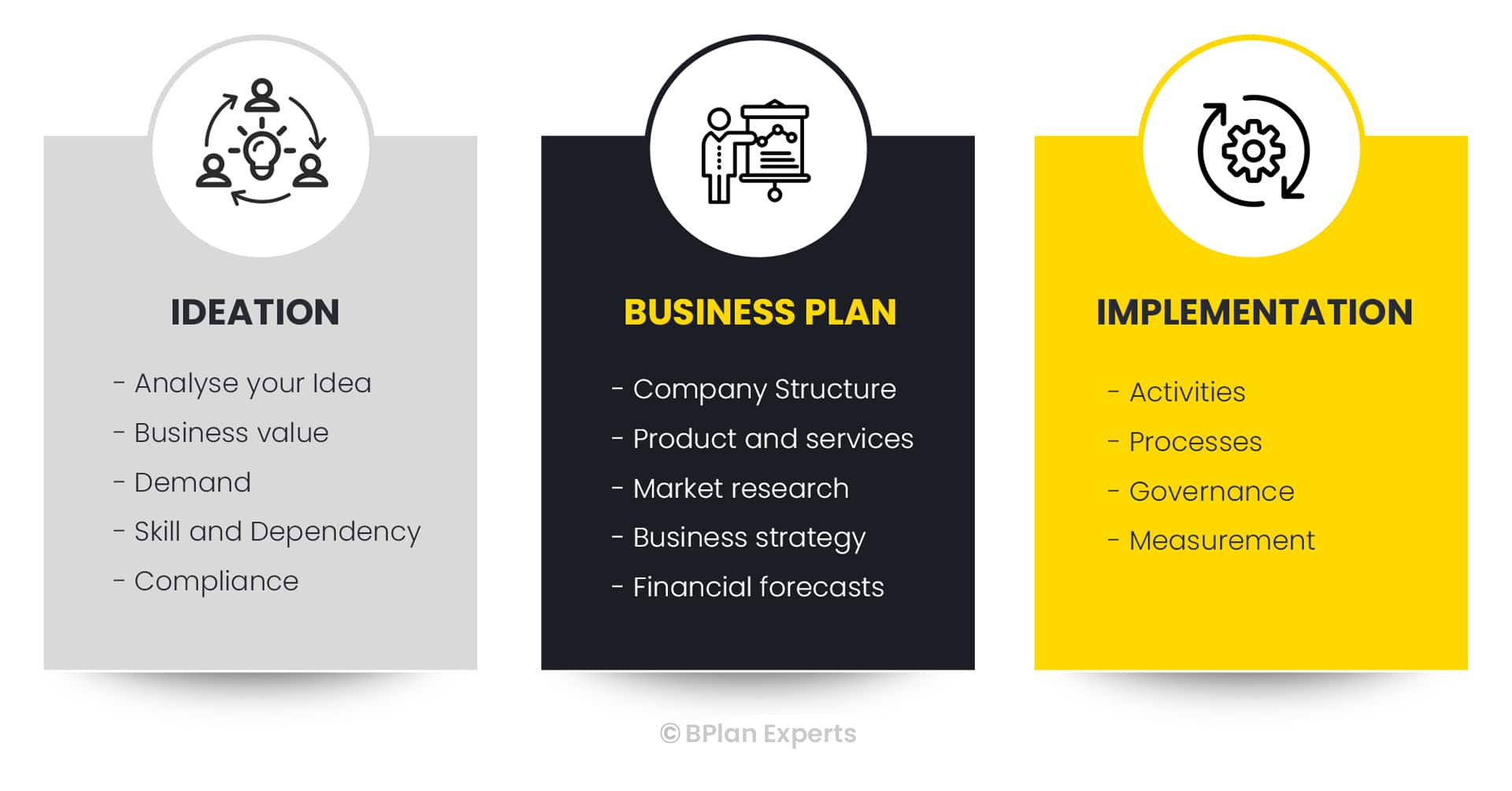 Business Ideation Process
Every business opportunity starts with an idea. This is an intuitive process and for an entrepreneur, potentially the "eureka" moment of their professional lives. However, at BPlanExperts we support entrepreneurs to step back a bit and take a rational view of their idea from a business perspective. In doing so, we offer the following pointers which can help validate a great idea.
Analyze your idea – Think and rethink your idea. At this stage, you need to analyze if your idea is something that is implementable at a larger scale or is it just a great thought. Get the thinking cap on.
Business Value – This is when you need to start setting expectations around your idea. Try and assess the market failure that your idea can address and the commercial opportunity that it may present. At the end of the day, you need to implement the idea and generate revenues out of it.
Demand – People often speak about certain businesses being nothing more than a "me –to" of a more successful and similar venture. There is nothing wrong with that, but it is very important for you to identify business reasons as to why consumers will transact with you and not with the existing more established players existing in the industry. It could be because there is a demand-supply mismatch, an uniqueness in your delivery model, existing players do not meet consumer expectations, or simply put, you just have a great idea. Irrespective of your USP, nail it down.
Skills and dependencies – This is a critical component of your ideation phase. Do you have the skills to implement your idea and transform it into a successful business? If you believe fundamental gaps exist, look for co-founders who have complementary skills. Get a strong team together and leverage each other's capabilities. Ensure that compliance issues are addressed and if appropriate, a legal entity is established. Brainstorm and start to document your idea. It is here that most entrepreneurs struggle, as transferring a thought into a structured document, more popularly known as a business plan can prove to be challenging.
Business Ideation Workshop
Do you need help in finding the right startup idea for you?
Finding the right idea for your startup is a challenging task. While sometimes it is a result of a spontaneous or an accidental discovery but there is a method behind the madness. At BPlan Experts we have created a structured approach to identify the right idea for your startup. Our business ideation workshop is designed for aspiring entrepreneurs struggling to find the right idea for their startup. It is important for us to remember that the startup idea must be a perfect fit for the entrepreneur. May it be the skillset in question or the budget in hand or the time and resources at your disposal. Our consultants walk you through the process of structured ideation and help you validate your idea.
The Business Ideation Workshop Flow
The following illustrates the outline of the business ideation workshop. It showcases the different modules covered in the workshop which will help you to identify the right startup idea for you.
1

Process of Ideation

In this module, we cover the different processes of ideation. This will help you to come up with several startup ideas based on the exercises showcased in this module.
Session Duration: 1 hour

2

Ideation Exercise

In this module, we will help you come up with to come up with several ideas using the processes we discussed in the previous module.
Offline Exercise: 4 days

3

Idea Prioritization

In this module, we will go through each and every idea and prioritize them based on multiple predefined parameters. This will help you to identify the ideas to proceed further with.
Session: 30 mins

4

Idea Validation

In this module, we will help you validate your top 5 startup idea using the proprietor idea validation framework and the idea validator tool. This will enable you to understand the validity of each identified idea.
Session: 1 hour

5

Idea Selection

In this module, we will analyze the idea validation results and analyze the apparent risks and feasibility. This will help you to identify the selected idea to pursue.
Session: 30 mins
Workshop Pricing
---
USD 350
or
INR 25,000
Workshop Details
---
Duration: 1 week
Sessions: 4
Hours: 20 to 30 hours (Total)
Mode: Online